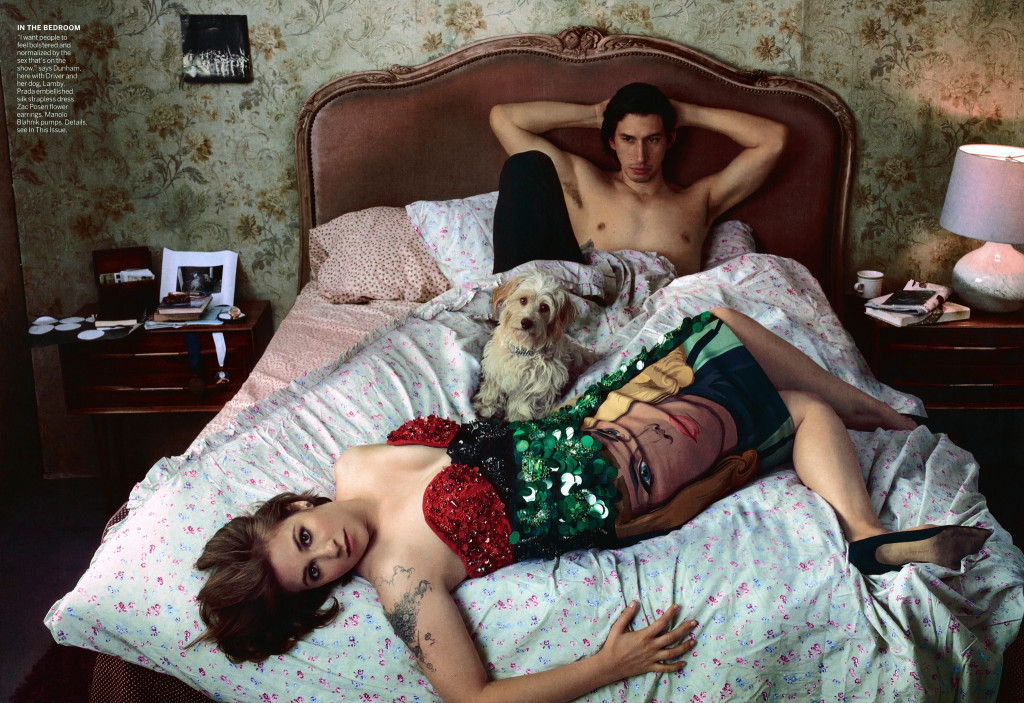 Seit langem hat mich kein Buch so begeistert wie Lena Dunhams "Not That Kind Of Girl – A Young Woman Tells of What She's "Learned" ", das ich in Englisch gelesen habe. Dunham ist in den USA ein Star und vor allem durch die HBO-Serie Girls bekannt, bei der sie gleichzeitig als Drehbuchautorin, Regisseurin, Produzentin und Hauptdarstellerin mitwirkt.
"Not That Kind Of Girl" ist kein typisches Frauenratgeberbuch, das zeigt, wie man sich am besten enthaart und rät die Kohlenhydrate am Abend wegzulassen. Lena Dunham geht auf eine viel tiefere Ebene, die mich zum ersten Mal spüren lässt, das ich nicht alleine bin mit zweifelnden Gedanken an das eigene Selbst, die über das "Ich-bin-zu-dick" hinausgeht. Denn sie nerven mich, die immer gleichen Attitüden, die in Zeitschriften, in Small Talks und Frauenrunden durchgekaut werden: das uns Männer verlassen, das wir zu dick sind, das wir im Job untergebuttert werden und das wir eigentlich immer die kleinen Mädchen bleiben, die das lieber lassen sollten anstatt es anzupacken. Trotz vieler Ängste und Selbstzweifel wird Lena zu dem was sie ist. Sie ist nicht einfach nur eine Künstlerin, sie ist die Kunst selbst und lebt sie.
Gerade Feministinnen haben sich viel von dem Buch versprochen. Es gibt daher zwar eine Mehrheit, die begeistert ist, doch es gibt auch viele Stimmen, die enttäuscht sind: das "Not that Kind Of Girl" eben nicht das feministische Manifest ist, das sie erwartet haben. Es wird hauptsächlich kritisiert, dass Lena zu viele persönliche Nichtigkeiten aus ihrem Leben erzählt (u.a. ihre Therapiesitzungen, ihr Verhältnis zu ihrer Schwester Grace etc.) und eben nicht auf das große Ganze "Feministische" eingeht, was auch immer das sein soll. Ich finde es schwer überhaupt zu beurteilen, ob sich das Buch nun als feministisches Manifest eignet oder nicht, oder was daran feministisch sein soll oder muss. Ich persönlich kann nur sagen, dass ich mich nach dem Lesen des Buches sehr verstanden gefühlt habe und dass Lena auf eine tolle Weise erzählt ohne Plattitüden, ohne Worthülsen, ohne oberflächliche Kommentare (à la "Hach ja, der Richtige wird schon noch kommen…"), sondern sehr ehrlich, SEHR offen über ihr bisheriges Leben erzählt. Das eben auch vieles nicht so einfach ist. Therapie und Hypochondrie in der Kindheit, komische Erfahrungen mit diversen Männern, Probleme mit der eigenen körperlichen Selbstwahrnehmung – Dinge, die fast alle Frauen beschäftigt und beschäftigt hat, die aber in seltenen Fällen so ehrlich und auf der anderen Seite auch so lustig selbstdistanziert dargestellt werden. Es geht um seltsame Kusssituationen: He put on some African music, kissed me like it was a boring job given to him by his parole officer, um kreative Anmachsprüche: I've never seen Star Wars OR The Godfather, so that would be a good excuse for us to spend a bunch of time together, komische Typen: If someone says "I'm not going to hurt you" or "I'm not a creep," they probably are; Noncreeps don't feel the need to say it all the time oder auch um Beziehungsalltäglichkeiten: About a month into the relationship, it started to dawn on me that spending time with him gave me an empty, fluish feeling, that he hated all my song choices, and sometimes I was so bored that I started arguments just to experience the rush of almost losing things. 
Vielleicht liegt es auch an meinen eigenen Erfahrungen, doch ich kann mich mit vielen Gedanke und Gefühlen, die Dunham beschreibt, identifizieren, ja oftmals habe ich laut gelacht, da ich manchmal selbst so bizarr gedacht habe und mich wirklich gefragt habe, ob ich die Einzige bin, die so etwas denkt oder ob ich nicht eher verrückt bin. Life is crazy – und dieses Buch definitiv auch! Unbedingt lesen!
Hier noch einige meiner Lieblingsstellen aus dem Buch:
---
---
::: LOVE :::
Emboldened by my new life as a woman with a meaningful job and a good jacket, I told Joaquin to fuck off forever.
---
"I don't think monogamy can ever work," he told me one day as we were meeting over cafeteria hash browns.
"I don't care. I'm not your girlfriend," I said.
"And thank God for that, toots."
I giggled. I was something far cooler than a girlfriend. I was a reporter. A temptress. A sophomore.
---
"You will find", she says, "that there's a certain grace to having your heart broken."
I will use this line many times in the years to come, giving it as a gift to anyone who needs it.
---
---
::: BODY ("Diet" Is  a Four-Letter-Word) :::
I didn't get on a scale until a year after I  graduated. I maintained the childlike perspective that weighing yourself was something you only did at the doctor's office-and if you were being offered a lollipop as compensation.
---
A friend once told me that when you've been in AA, drinking is never fun again. And that's how I feel about having seen a nutritionist – I will never again approach food in an unbridled, guilt-free way. And that's okay, but I think of those college years as the time before I was expelled from Eden.
---
---
::: GROW UP ::::
I'd been thrust into a world of obligations and responsibilities, budgets and scrutiny. My creative process had gone from being largely solitary to being witnessed by dozens of "adults" who I was sure were waiting to shout This! This is the reason we don't hire twenty-five-year-old girls! Romance was the best way I knew to forget my obligations, to obliterate the self and pretend to be someone else.
---
And two years later, on a boiling day in June, my mother turned toward me from the driver's seat of our Volvo and said "Guess what? You're going to have a baby sister." 
"No, I'm not", I replied.
"Yes, you are," she said, smiling wide.  "Just like you wanted." 
"Oh," I told her. "I changed my mind." 
---
I'd never had a teacher talk to me like this way. Like I was a person, whose ideas and feelings mattered. He wasn't just nice. He saw me for who I felt I was: achingly brilliant, misunderstood, full of novellas and poems and well-timed jokes. He told me that popular kids never grow up to be interesting and interesting kids are never popular. 
---
---
::: HYPOCHONDRIA :::
An assistant teacher comes to school with bloodshot eyes, and I'm convinced he's infected with Ebola. I wait for blood to trickle from his ear or for him to just fall down dead. I stop touching my shoelaces (too filthy) or hugging adults outside my family. In school, we are learning about Hiroshima, so I read Sadako and the Thousand Paper Cranes and I know instantly that I have leukemia. A symptom of leukemia is dizziness and I have that, when I sit up too fast or spin around in circles. So I quietly prepare to die in the next year or so depending on how fast the disease progresses.
---
We are all afraid of cancer […] I'm not scared enough to do any 10k walks, but I'm pretty scared.